In the world of modern office aesthetics and ergonomic solutions, the Aothia Wood Monitor Stand stands out as a versatile and stylish accessory. Available in three stunning colors - oak, Black Walnut, and Black Walnut - this monitor stand not only elevates your monitor to the perfect height but also addresses the common issues of neck and back pain associated with prolonged screen time. Discover how Aothia's thoughtful design and sustainable materials can transform your desk space and enhance your overall work experience.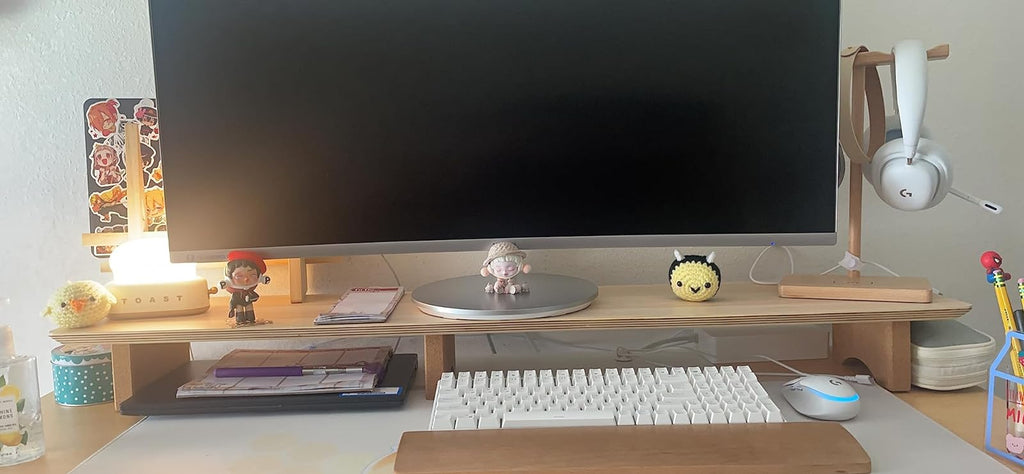 Key Features
Ergonomic Design for Comfort
Say goodbye to discomfort during long work hours. Aothia's monitor stand is crafted to raise your monitor to an ergonomic height, promoting a comfortable sitting posture. This simple adjustment can significantly reduce eye strain, neck stiffness, and back pain, ensuring you can work or play without unnecessary physical strain.
Stylish and Modern
Available in three distinct colors - oak, Black Walnut, and Black Walnut - Aothia's monitor stand adds a touch of modernity to your workspace. The sleek design complements any desk setup, making your workspace not only functional but also visually appealing. Stand out among your colleagues with this elegant and practical desk accessory.
Eco-Friendly Construction
Aothia prioritizes sustainability in its design. The desk top shelf is made of composite wood from eucalyptus and poplar, with a printed black walnut color topper layer. The sustainable cork block legs ensure that this piece of furniture positively impacts your life without harming the environment. Experience the perfect blend of style and eco-consciousness.
Increased Desk Space and Organization
Effortlessly organize your desk space with Aothia's Wood Monitor Stand. Measuring 44 x 9.4 x 4 inches, this stand provides ample space underneath to store office accessories and supplies. Finally, achieve the clutter-free and organized workspace you've been longing for, allowing you to focus on your work without distractions.
Versatile Compatibility
Not just limited to monitors, Aothia's stand also complements your TV setup. Use it for items like your cable box, Xbox One, PS5, or other media players. The versatility of this monitor stand expands its utility beyond the office, making it a valuable addition to various entertainment setups.
Quality Assurance and Customer Satisfaction
Aothia is committed to providing a premium product. If you encounter any quality or transport damage issues, rest assured that you can opt for a replacement or refund. With Aothia, you enjoy unconditional return and refund services, ensuring your purchase is risk-free. Your satisfaction is our priority.
In conclusion, the Aothia Wood Monitor Stand is not just a piece of furniture; it's a functional and aesthetic upgrade for your workspace. Elevate your monitor, enhance your comfort, and embrace the modernity and sustainability that Aothia brings to your desk. Choose Aothia, and redefine your work and entertainment experience today!